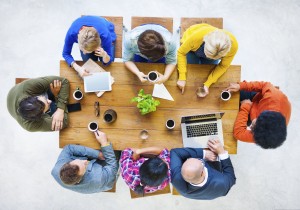 We are pleased to announce a new learning opportunity – virtual roundtables, a place to discuss and explore specific topics related to workers' compensation and unemployment benefit issues.
Roundtables are a wonderful forum for professional development and provide a place for idea and experience sharing.  And since we are offering a virtual option, you can participate from the comfort of your own office.
Our plan is to conduct guided discussions on topics of interest to our members on a quarterly basis.  We have identified a few topics and want to hear what is important to you.  Here is what you can look forward to: return-to-work incentive, Origami reporting, fraud investigation, school district safety culture, blood-borne pathogens, records retention, and more.
Members will be invited to participate in the discussions via Zoom and subject matter experts will lead the discussions.  We hope you will join us.
Our first Virtual Roundtable is scheduled for June 25, 2019 from 11:00 – noon. We'll be discussing significant L&I changes effective July 1, 2019.  Learn more here.
Contact Dee Thierry with any questions at dthierry@psesd.org.