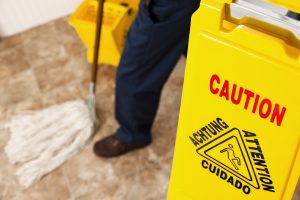 Did you know that during the 2017-2018 school year, 26% of PSWCT's claims were related to slips, trips and falls? That amounted to over $2.3M in related costs. That is a lot of injured staff members and a lot of money spent on avoidable injuries.
We want you to have a safe work environment that is focused on prevention. So here is a tool for you to help avoid this frequent cause of injury. PSWCT has access to Safety Essential Training webinars designed specifically for supervisors.
Please join us on Tuesday, November 13, 2018 for Slips, Trips and Fall Prevention. In this informative, interactive webinar you will learn how to reduce the potential for loss due to slips, trips and falls.
To participate:
Join the GetSET training session at: http://ajg.adobeconnect.com/getset/. If you select Audio Option #1, you will be able to use your desk phone to join the breakout discussions.
Join as a GUEST.
Go to http://www.rwpoll.com on your mobile phone, or on an additional tab in your computer's browser, to respond to on-screen questions to compete for points.
Enter the Session ID GETSET.
Enter your First Name, Last Name, Company Name and Email Address.
When you see "Polling Closed" on your phone you can respond to on-screen questions.